Sneak Peek!
So this is what I was referring to about another challenge blog. Come on over and have a looksee around and I will be posting the first challenge on the 1st of September, I just have to think of one and scrap it! LOL!
And I got one of these from Mel!
Thanks Mel! The cheque's in the mail! 😉
Now, the 5 people I tag are…..
Nic P and
Moi.
So, while the cat's away the mice will play! LOL! Me and the kids had a trampoline picnic for dinner last night, which consisted of party pies and sausage rolls. That will teach me for asking a 6 1/2 year old what she wants for dinner, huh? It was fun though and this weather has been nothing short of perfect!
So, anyway, do you like Kate's dress? It has halter straps now though. You see, I was trying to make myself a top and well, I tied the elastic just a wee bit too tight, so now, yep, a dress for Kate. She loves it too! LOL!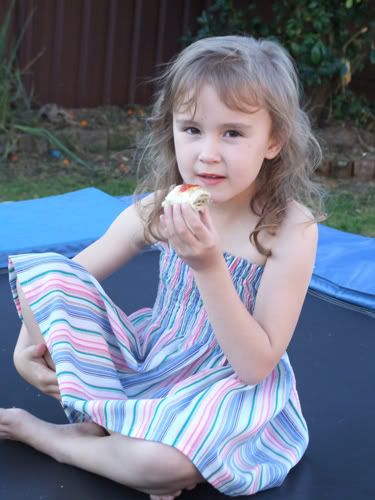 Today Luke and I went to playgroup. It was good today as there weren't heaps of kids. Then I went to KMart as I had to return some shoes I bought – cute canvas ones which were totally UNcomfortable! The my SIL came over to help me sort out the baby's room. We went through the clothes I had and put them in size order and washed the nappies and blankets. I have the clothes soaking as I type. Mmmmmm I forgot how good a baby smells! 8 weeks to go and counting!
Anyway, I better go as Idol is on and I love Idol! I have watched every season so far and I just love it! Also, I gotta see if Ben gets through as his dad works with Steve. Cool. Thanks for stopping by and don't forget my sneak peek!